Why NightWhisperLolita?
We are an indie studio based in Missouri. We started out with the mission to make Lolita fashion accessible to everyone of all body types. Ever since we started in 2018, we have been able to provide high quality Lolita Fashion, up to 7XL, to everyone interested in the style. We also wanted to make a brand OUR way, with a focus on comfort and safety(and POCKETS!). The regulations for clothing industry is tragically lax, so we go out of our way to submit all the materials we use for safety testing not required by law, just to be assured our products would be safe for everyone. We also have more than 2,000 reviews on Etsy averaging 4.9+ out of 5. You are always welcome to reach out with any questions, especially regarding sizing and fit!
Your support, whether through purchasing our products, or sharing our site/posts, helps us maintain our vision and responsible standard, thank you!
I'm new to lolita fashion and this is my first petticoat!! here it is with one of my regular dresses. i love it so much! it's surprisingly soft and very comfortable. the shipping was also faster than what i anticipated as well :D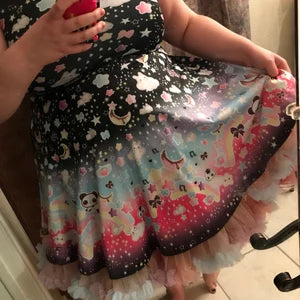 Dominique
Awesome quality. Fits super well, which was a purchasing concern as a plus size person. The fabric quality is great, the lace is lovely, can't wait to coord it and wear it out!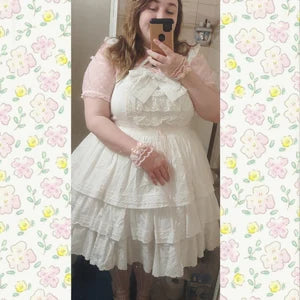 Dini
This JSK is a *chef kiss* Lovely for old school or sweet coords! The cotton is breathable, and soft. The lace is of excellent quality. There is so much adjustability to this Jsk! The waist can be cinched with a ribbon, the back has corset lacing and shirring, and the shoulder straps can be adjusted. The skirt can accommodate a very large, voluminous petticoat, but also looks lovely with a more modest A-line silhouette. This means you have so much versatility with how you want the dress to look!!! Can't wait to coordinate this jsk again!!!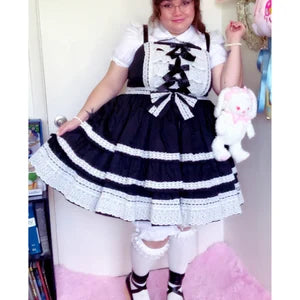 Aggy
I'm absolutely in love with this headpiece! It's well made and made me feel like such a goddess wearing it ✨🥰 would def purchase again from this shop.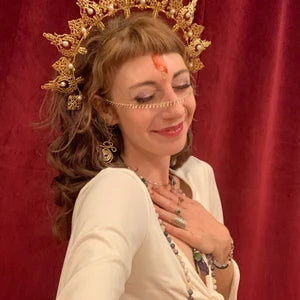 samantha